ACCOMMODATION
Accommodation will be arranged in the House of Creative Work of the Polish Academy of Sciences (Wierzba, 12-222 Wejsuny, Tel. (+48-87) 4231619). Wierzba is surrounded by forests and located on the edge of the great peninsula in between Śniardwy Lake (the greatest in the lake district) Bełdany and Mikołajki Lakes.
<![if !vml]>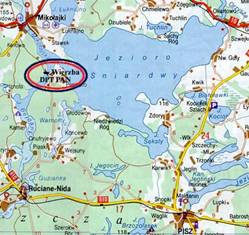 <![endif]>
Wierzba can be reached by car or by train from Olsztyn to Ruciane-Nida.
BUS TRANSPORTATION
on Sunday, May 9-th, 2004
from WARSZAWA to WIERZBA
The Bus will leave for WIERZBA:
at 4:00 pm from the parking in front of SALA KONGRESOWA (Congress Hall) located on the Emilii Plater street side of PAŁAC KULTURY vis a vis the railway station WARSZAWA CENTRALNA.
at from the airport WARSZAWA OKECIE – arrival level
Contacts:
At the bus: Maria Polomska mobile 0 603 217 571
Wierzba: Bożena Hilczer mobile 0 605 558 328
Czesław Pawlaczyk mobile 0 601 726 681